Babson Service Immersion Trips
Administrator Opportunity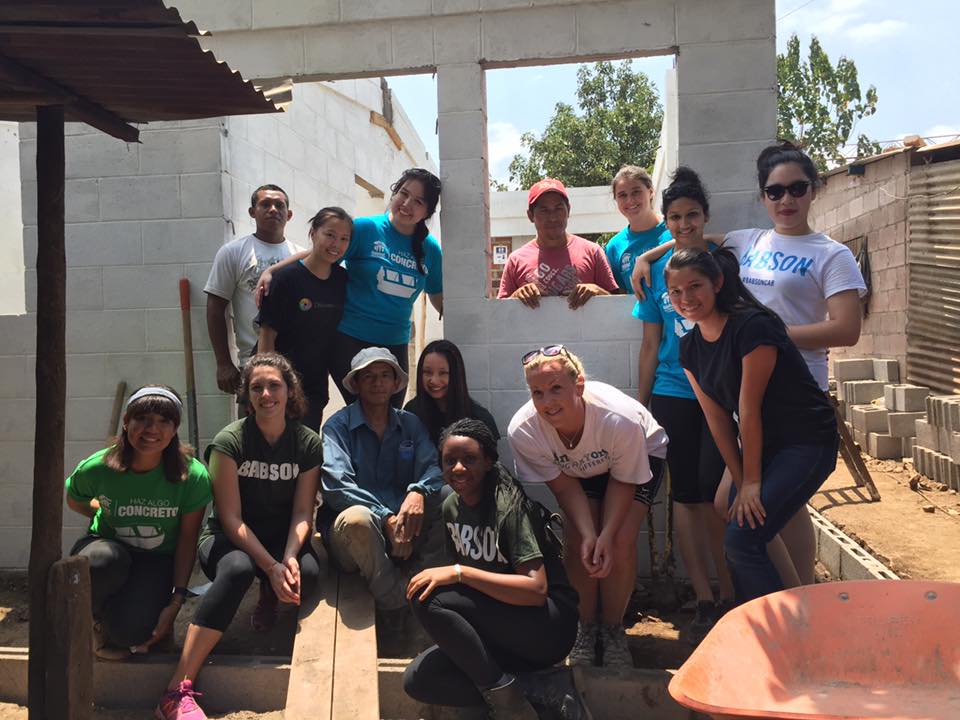 Each academic year, the Office of Faith and Service offers four Service Immersion trips, two during winter break and two during spring break. These trips are open to both undergraduate and graduate students. The mission of the service immersion trips is to provide Babson students with opportunities to engage in intensive service experiences with communities in need during campus breaks, and through reflective activities, promote civic engagement, leadership development, and appreciation of diversity. The program challenges students to participate in an extended and intensive service experience during the college's winter and spring breaks. These experiential learning opportunities help students develop a sense of personal identity and community, as well as an understanding of important societal issues, while helping others who are in need of assistance. Each trip provides the opportunity to meet new people, visit new places, and learn new skills. Service Immersion can be a very rewarding, and sometimes, life changing experience. For more information about Service Immersion programs, visit the
Service Immersion
website.
In order to ensure the highest standards of risk management on these trips, Babson sends two service immersion administrators on each trip: one lead staff member who would have service immersion experience usually a Office of Faith and Service team member and a second co-trip leader. The lead staff member is preselected by the Office of Faith and Service. The second is a co-trip leader who applies through the our application process and is selected to support the trip leader. Service immersion administrators are generally full-time administrators or faculty members at the college. The administrator's role is to be a co-trip leader by providing logistical support, being knowledgeable about Babson policies and procedures, and being available for managing emergencies. The administrator role is key in assisting in the event of a student illness or emergency. In this role, the administrator is expected to participate in the service project whether it be building homes with with Habitat for Humanity or teaching entrepreneurship in Tanzania.
We are pleased that you are interested in pursuing the opportunity to be a Service Immersion administrator. The role as administrator is both challenging and rewarding, as well as an opportunity to develop professionally and personally. There are four steps you should complete as you consider whether this opportunity is right for you:
Review the administrator qualifications, responsibilities, compensation, and selection process below
Speak with your manager
Review trips offered
Complete the interest form
The Service Immersion Administrator should have the following qualifications:
Full-time Babson employee
Has received approval from their direct supervisor to participate in a Service Immersion trip as an added component to their workload
Experience leading groups of undergraduate or graduate students and managing group dynamics and expectations
Ability to exercise good judgment and make decisions in stressful situations
Ability to be flexible, work as part of a team, and exercise fiscal responsibility
A strong commitment to international education
Available to work evenings and weekends and travel internationally for 1 week (unaccompanied by partner and/or children)
Preferred Qualifications
Exempt Babson full-time employee (Non-Exempt employees will be considered with approval from supervising department)
Prior experience leading student groups abroad
Experience traveling internationally
The Service Immersion Trip Administrator is responsible for the following:
Pre-Trip Travel
Pre-Trip Meetings

Attending all pre-trip meetings
Setting expectations for the group during the pre-trip meetings
Collecting student domestic and international phone info

Preparation for International Travel

Completing all necessary online forms by the deadline
Understanding the responsibilities of and fully supporting the Trip leader
Attending all meetings with program manager and provider (if applicable) prior to departure to review important logistical matters and health and safety information
Preparing for travel through self-education on country culture, facts, basic language, etc.

Health & Safety

Participating in one mandatory International Travel Workshop
Becoming knowledgeable about Babson Emergency Protocols

During Trip Travel
Trip Activities

Being present and participating in all trip related activities
Engaging students in informal and formal conversations and encouraging reflection about trip experience and culture
Ensuring students are meeting group expectations established during pre-trip meeting

Trip Logistics

Carrying and managing thank you gifts, handling payments and gratuities at group events, and distributing materials (as needed)
Addressing travel logistics (in country) for the group, including resolution of issues as they occur "on the ground"
Acting as the "point person" to the program manager for travel, logistics, and trip updates

Health & Safety

Handling any emergency or disciplinary issues that may arise in a professional manner and in collaboration with the team leader and program manager (as needed)
Maintaining regular communication with program manager

Budgeting & Financial Management

Keeping track of all expenses incurred during the program

After Trip Travel
Evaluation & Assessment

Meeting with the program manager, faculty, and provider (if applicable) to debrief the trip
Participates in trip wrap up session (if applicable)

Budgeting & Financial Management

Following Babson policies and procedures for submitting expense reports and allocating PCard expenses by the deadline (PCards: 25th of the month, Expense Reports: 2 weeks from course end date)

Miscellaneous

Acting as a representative of Babson College and as such following the College's expectations for professional conduct during all aspects of the course
Partnering with the Glavin Office and Office of Faith and Service to share experience with the Babson College community after the trip
The administrator receives full travel expense coverage for all trip-related expenses. There is no additional compensation for the administrator as their involvement in the Service Immersion trip is considered by the College to be a professional development activity.
Application & Selection Process
All interested administrators must complete the above steps including the interest form in order to be considered for this role.
Application & Selection Process Timeline
| | |
| --- | --- |
| Date | Event / Deadline |
| May 2, 2017 | Elective Abroad Course Administrator & Service Immersion Trip Administrator Lunch |
| May 2, 2017 | Administrator Interest Form Opens |
| | Administrator Interest Forms Review on a Rolling Basis |
| Mid-October, 2017 | Administrator Placements Sent |